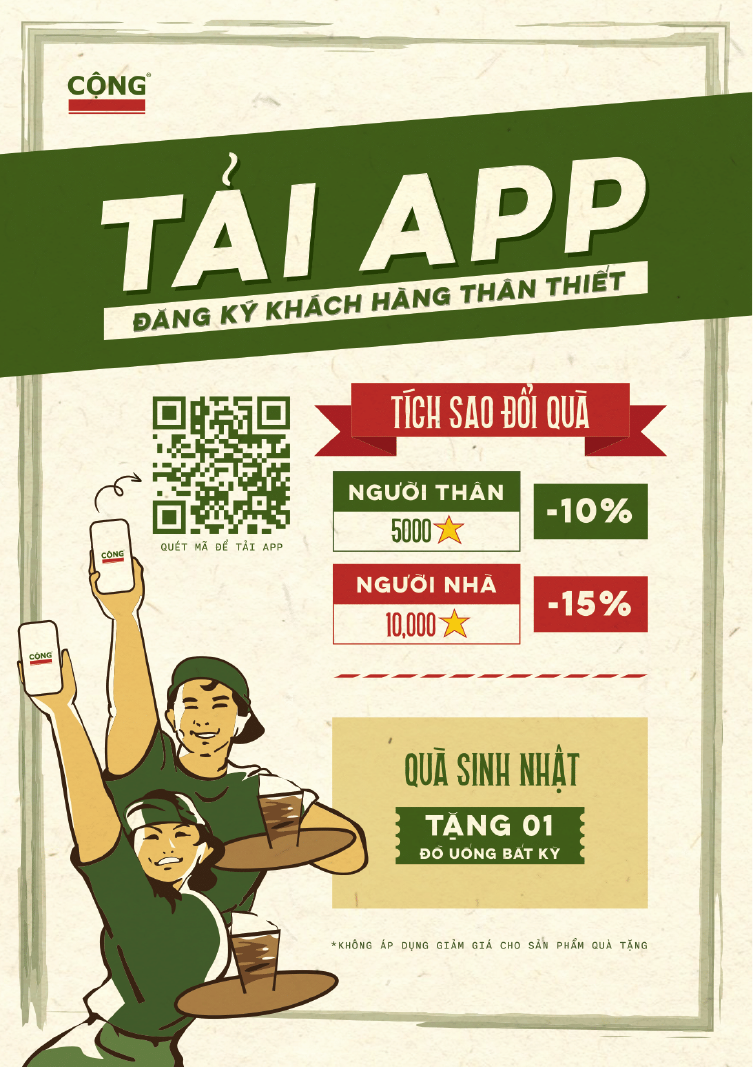 1. MEMBERSHIP RANGE AND BENEFITS
🌟 Cong Caphe App can convert the form of collecting points from hard cards to "collecting stars" via the App. You can easily collect stars by phone number and track the process of "rising rapidly", no longer worrying about forgetting to bring or lose your hard card.
🌟 The feature "Collect stars - Receive gifts", just keep an eye on Cong Caphe store, we will get closer and closer. The closer we get, the more generous the offer for you!
Up to now, Cong Caphe App applies to receive offers with 3 range of card: "Acquaintances", "Relatives" and "Families". Details are as follows:
• Acquaintances: <5.000 stars will get 20% discount for the total bill for birthday.
• Relatives: 5.000 stars – 9.999 will get 10% discount directly deducted for all payment bills (snacks and drinks), 30% discount in bills on your birthday.
• Families: 10.000+++ stars will get 15% discount directly for all payment bills (food, drinks), 1 free drink/bill on birthday.
🎁 And many other premium privileges for members with Cong App like:
- Fully update information about promotions and special gifts quickly.
- Receive gifts, vouchers, discount codes exclusively for you, sent directly to the promotion warehouse by Cong Caphe.
- Evaluate service quality, request complaints directly through the "Feedback" function.
2. ACTIVATE MEMBERSHIP CARD AND ACCUMULATE POINTS ON THE CONG CAPHE APP:
👉 STEP 1: Go to the App Store or CH Play, search for "CONG CA PHE" and download the application to your mobile phone.
Or visit this following link to download the Cong App right now: bit.ly/appCong
👉 STEP 2: LOG IN OR MEMBER REGISTRATION
* For customers who have a membership card before:
- Log in with the phone number that has been registered for membership card before.
* For customers who haven't had a membership card:
- Enter the phone number you are using.
- Update personal information: full name, date of birth, email
👉 STEP 3: After the card is activated, you can use Cong Caphe App now!
- The card will accumulate points from the next payment, when there is enough customer information.
- Purchasing points will be updated some time after completing the transaction. You can look up your orders and track your purchasing points progress on your Cong Caphe app.
3. NOTE:
- Your discount will directly applied to the bill, applies to drinks/snacks. And your discount is not redeemable for cash.
- Please give the code on Cong Caphe App to the staff before order, to collect your purchasing points.
- Our system will automatically upgrade your membership when the card reaches enough purchasing points to accumulate.